Fun things for families to do in and around Carlsbad CA
RSS 2.0
Stairs Run/Walk Workout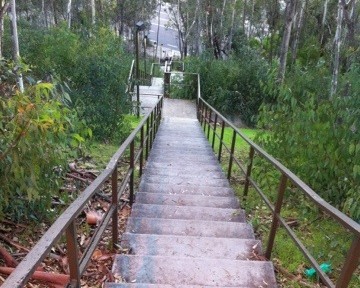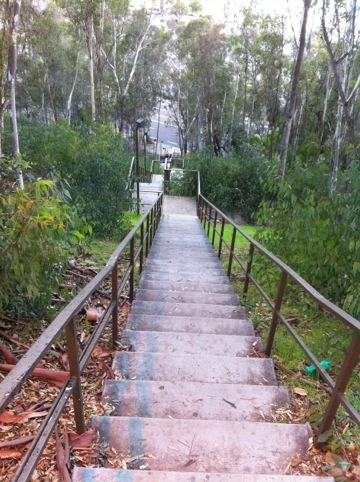 There is a awesome set of stairs in Carlsbad. These very long and steep stairs are great for working out. Depending on your current level of fitness you can run or walk the stairs. Directly across the street from the Westfield Mall. The stairs run up to the apartment complex 100ft west of the First National Bank parking lot at the address 2365 Marron Road Carlsbad, CA 92008.
Fun takes all forms! These are the longest and steepest set of stairs I have ever come across. Running or walking them, if you push yourself, this is the hardest workout you will ever do. I've been doing them for 10 years now. I usually throw 50lbs on my back and walk them. We do family stairs occasionally. The kids do a few sets then play in the nearby trees and dirt which are aplenty. If its your first time out I would take it easy or walking will be difficult for awhile.
Here are a few of my personal best times and accomplishments while doing these stairs – beat these lol.
– 85lbs on my back + my 40lb son on my shoulders x 4 times up/down.
– 10 times up/down with no weight added in 19:25.
– 25lbs on my back x 10 times up/down in 23:01.
– 25lbs on my back x 30 times up/down in 1:24:30 (training for MT Kilimanjaro).
– 50lbs on my back x 10 times up/down in 27:27.
Brought to you by Building Blocks Home Daycare in Carlsbad, CA.
18
Dec
Posted:
December 18, 2011 Sunday at 6:15 pm